Another bright, crisp, smog-free morning. So many great conversations go on between Jack, Dylan and the members of the Quartet that I arrive early for breakfast (unheard-of) and set up the recording gear. The young women on the door of the restaurant are interested and helpful but don't understand why I request a large table for just me. I ask to speak to their manager. "Our Leader?". I suppose so. She arrives and shakes her head – "no CD, no photo". I agree and carry on setting up. She gives up and walks away.
All is not well at the China Conservatory. Dylan is concerned with the perceived lack of preparation Xiao Ma has done on his vocal line. There are inaccuracies in pitch and rhythm and an uncertainty that comes through all to clearly in the sound he's producing. Dylan and Jack talk the problems through and come up with some possible solutions. I record the discussion , trying not to chip in.
Down at the studio Dylan, Xiao Ma and I head for the control room, me to record the 'sorting out' session and to offer moral support, if needed. Dylan has reworked the vocal line, simplifying it and changing the text to pure vocalisations. I can see that Xiao Ma's not impressed, but he goes along with Dylan's wishes, Dylan is very diplomatic.
One of the challenges the New Zealanders have found with the Chinese is the casual starting times of rehearsals. If they turn up on cue, say at 10:00, the organised rehearsal can, and often does, start a couple of hours later, or more.
Today the Chinese musicians arrive, gradually, in no rush. They go to the smoko room (which seems to be anywhere and everywhere). The women wear (fake?) furs, possibly status symbols.
Just as we think the ensemble's beginning to gel and perhaps rehearse, the lights dim dramatically and a rousing chorus of Chinese "Happy Birthday" with candles, cakes, card and a silk scarf present interrupt the interrupted rehearsal in honour of Helene. It's a lovely distraction (as if we needed one).
Half an hour later we're back on track, preparing for the rehearsal of Zou Hang's work, Ten Changes & Five Variables.
Jack's known Zou Hang since he was a student.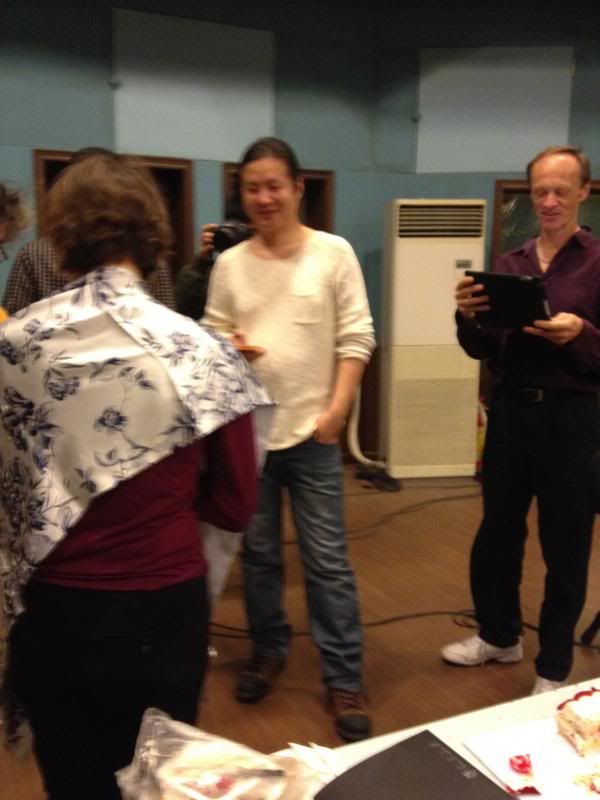 ZH's work uses extended techniques – blowing, tapping wood, singing – to reflect elements of Chinese culture. Some of the Forbidden City Chamber Orchestra put down their instruments to play wooden clappers. The NZSQ and erhu chase after each other in an avalanche of notes and slides.
Lunchtime – Shen Cheng takes us all for lunch at the campus lecturers' restaurant.
Christmas is coming, the goose is getting fat … only not the one whose head ends up on my plate today.
Two rooms are set aside for us and elegant food arrives, plate after plate. Animated conversation centres around language (tongue-twisters in both), the subtle nuances of Chinese diction, and food.
The lunch table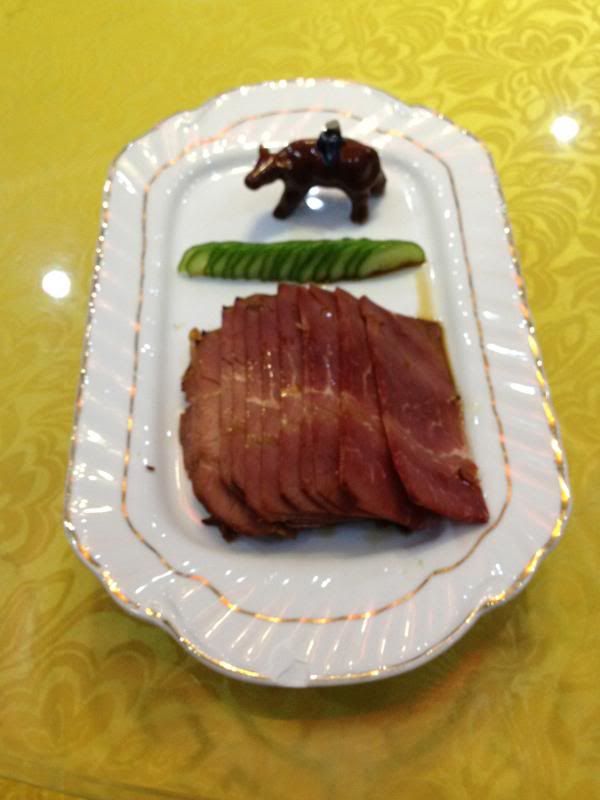 After lunch Jack, Dylan and I walk up the road to a couple of overflowing music shops. I find some Chinese piano pieces for friends back home. Dylan looks for music for his beloved qin. No joy though.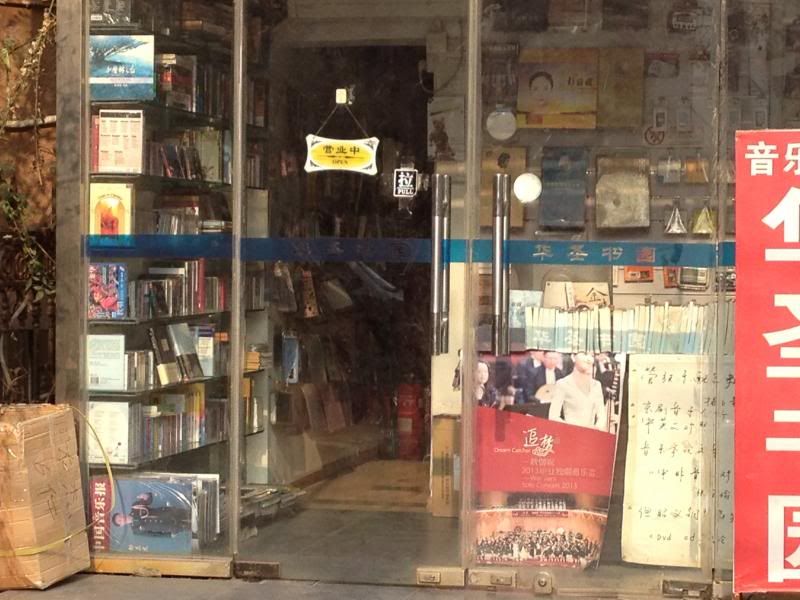 The music store
Back at the studio time is ticking.
There are rehearsals and recordings today, rehearsals tomorrow and then a concert at the Forbidden City Concert Hall tomorrow at 19:30. Time is simultaneously running fast and slow (due, I think, to the repeated minute of recording – Groundhog Day style – which is essential for recording).
Jack and I head out to the shops again and find what we think is the parchment book of qin music that Dylan was trying to locate. We buy it for him as a present, to remind him of his time here and to stimulate more composition in the future.
More interviews, this time with Gao Ping translating. One with his father, Gao Weijie, also with the director of the FCCO, Liu Shun and with the percussionist and flute player. That makes the full complement – very relieved!
Dinner with Gao Ping and his lovely partner Wang Wei, Jack and Dylan. We meet another composer friend of GP's who gives me a CD of his music to consider for Sound Lounge.
This is our last day in the studio. Sad.