Flight to Auckland, all good. Flight from Auckland to Guangzhou, delayed by four hours. I know this means I'll miss the connecting flight to Beijing. The official at Auckland reassures me that we'll be met and our onward travel will be explained to us then. Right-o! Auckland to Guangzhou's on a Boeing 787-8 Dreamliner (a bit of a Disney name, I think, expecting to find Robin Williams as chief purser).
No, but I'm flabbergasted by the blueness of the sky we're flying into, judging by the view from the super sized windows. That was until the windows began tinging green and uncomfortable thoughts about flying over less than ecologically safe industrial landscapes taint my thoughts. Orange and purple and the fragrant air wafting through the cabin and I realise that indeed these planes are more Disney creation after all. Watch Avatar and The Vampire Diaries, perfect entertainment for the hyper-surrealness of our onboard environment.
Have to say feel very safe, and looked-after, even though one of the few pakeha or gweilo onboard. Read China Southern's brochure of success – impressive ecologic, aid and philanthropic projects; state-owned, employing 70000+; the only Asian airline ranking in the world's top five passenger carriers; accumulated nearly 9million hours of safe flight operations & carried close to 600 million passengers without incident (fingers crossed another one can't pose much of a problem); company logo can be seen around the globe with a brilliant red kapok delicately adoring a blue vertical tail fin (is that reference taken from a Chinese Kama Sutra?). [Ed; there's no tail fins in the KS]
Inflight music channels offer recordings of Chinese stars Lang Lang and Vanessa Mae, Boccherini Guitar Quintets on Naxos and under Relaxing Music – Stravinsky's Rite of Spring, described as "violent as a volcano erupting". Following Relaxing Music is Deep Night the Tune, Infatuation for Dizi, Trout Quintet and Running Notes. No sleep on the near future, so I try them all.
Beef noodles and pork fried rice later I realise that my "please"s and "thank you"s are out of place. Hardly anybody else acknowledges services, it doesn't seem to be expected. They're in my DNA though so continue, feeling vaguely foolish.
9pm China time. Guangzhou airport – no more flights to Beijing tonight. Clouds forming in under-rested brain. Coach will take those of us with on-flights to a hotel. There's a hotel right there, outside the terminal building window. Surely we can stay there? No, no no. Coach drives us away from surprisingly topiared-shrub planted airport. Iggy Pop, "I am the passenger" – certainly am, haven't a clue where we're going and nobody speaks English. Although there are about ten of us, none of the others are flying to Beijing in the morning.
We're driven for over an hour across the city. Friday evening activities are taking place, people gathering in cafes and car workshops, hey, why not? We sail up to and then past a number of splendrous red and yellow neon lit hotels, each of which I'd happily pull up to, but not disappointed, ours, when we get there, is the original Chinese lantern lit up for the 21st century.
Bath. Can't find light switches. Don't care, sleep with light on.
Morning call 4.40am. Handed a box with two rolls, two eggs, two tiny toms. Too early to think about food. Back to airport where miraculously I find bag drop and head for departure gate. Spot a man carrying a Farmers bag. Now that seems incongruous.
Flight to Beijing, face planted on the folding table.
And so, Beijing airport, with no-one to meet me because they don't know what's happened. Hmm, what to do? Money from ATM (thanks Ryan – your info that the number pads are in a different order to at home just saved me from having card swallowed). Didn't save me though from being ripped off majorly by a friendly 'taxi' driver on the 20k drive into the city – ha ha, live and learn gweilo.
Driving into Beijing, leafless trees, CLEAR sky, nests (strange, because there's very little birdsong, just a large bird that squaws)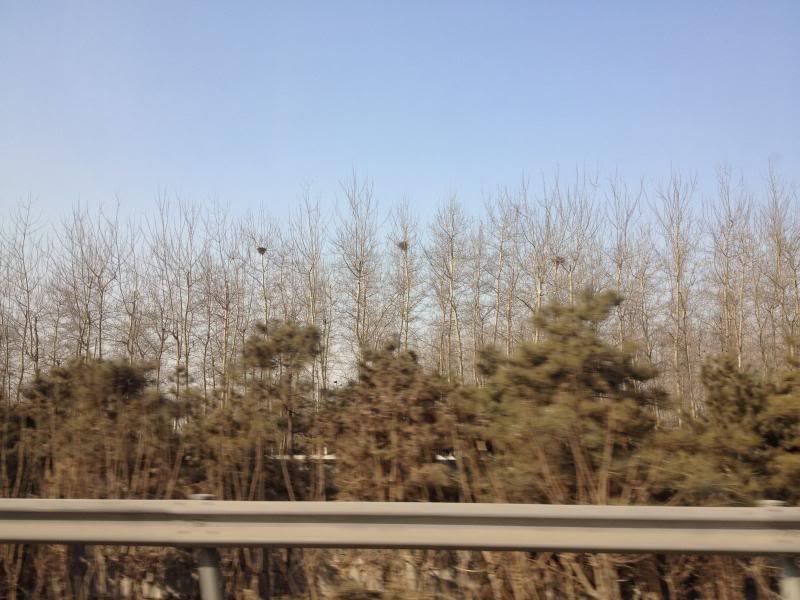 Interesting cuisine, interesting not knowing what you're eating, interesting duck eggs prepared in lime …
The Bird's Nest – very close to the Music Conservatory, CLEAR sky. Smog, it must be a myth.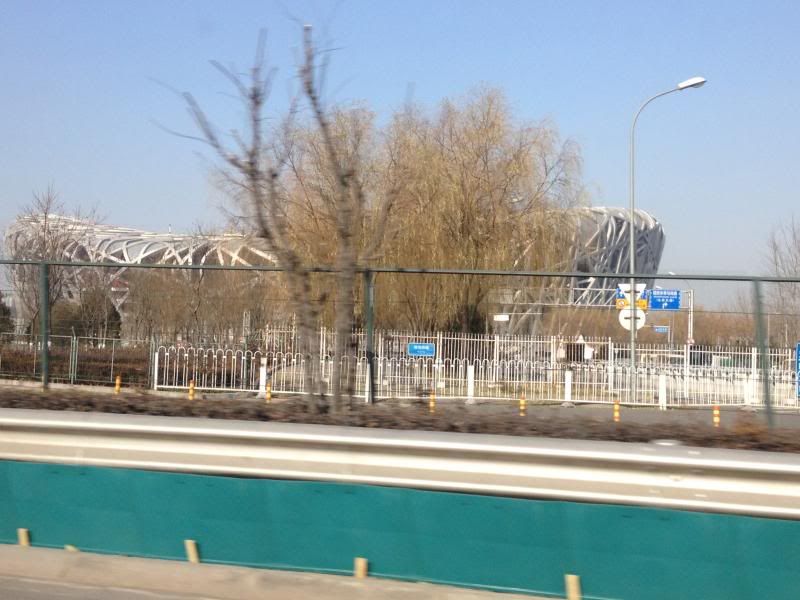 Wave of relief at being in my destination city. Now to find the NZSQ, Jack Body, the Forbidden City Chamber Orchestra. Easy, surely?
Taxi Number One drops me at the Music Conservatory. Fill in the gaps until Taxi Number Three drives up to the steps of the Beijing Tibet Hotel and a relieved Jack Body answers his room phone with "now that's just the voice I needed to hear". Great happiness all round, including back at the Conservatory as the Orchestra and Quartet break rehearsal for hugs and reassurances.
And so we're together. lt's the best feeling to be amongst friends and fellow musicians. More to follow soon! K X