Tuesday – Concert Day dawns, there's last minute music talk over breakfast. We're wondering how rehearsals will run today. There's a plan for two runs-through in the venue before the concert at 19:30.
I help Jack send some emails using wifi in reception (there's none in our rooms). Bus to the conservatory at 12 noon to pick up the Forbidden City Chamber Orchestra musicians and their instruments. Total musicians – 17. Even though we're fit and able we're not allowed to help carry the pile of percussion instruments. An army of students (at least 15) has been conscripted for that purpose. It's freezing, as pointed up by the ice-covered rivers and lakes on our way to the Forbidden City.

Our coach

Off to the conservatory
For the second time this trip (one being my first 'lost' day) we pass the hutong (the narrow alleys and little houses of the old city. Their stonework is grey and dusty-looking but I guess that with a water-blaster they'd come up sparkling.
We arrive at the Forbidden City. The women of the ensemble have already had their hair and makeup done. They look very beautiful.
We stop in one of the outdoor precincts for an extended photoshoot.

the Orchestra & Quartet & composers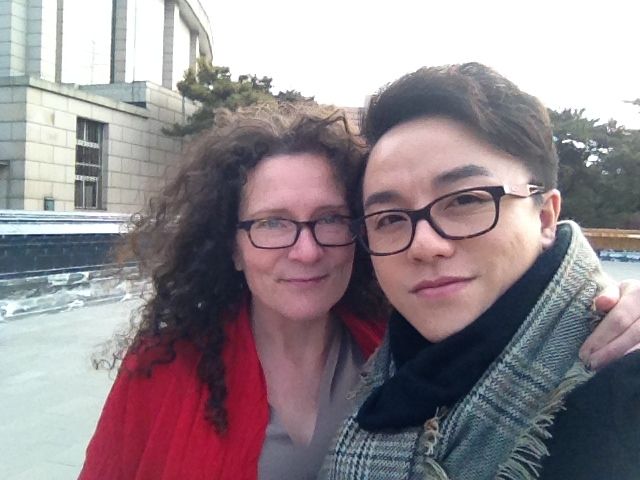 Selfie with Xiao Ma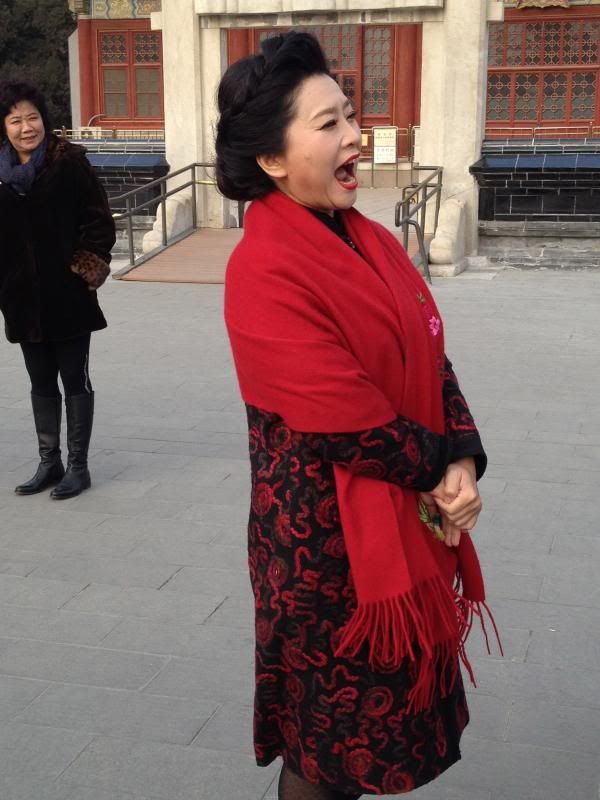 Yang Jing, one of the most famous pipa players in China
Meanwhile on stage, setup's from scratch. Mr Lin the sound engineer and the students set seats, music stands, percussion instruments, microphones, and speakers (for Jack's piece).
Rehearsal starts at 3:00 and progresses … slowly.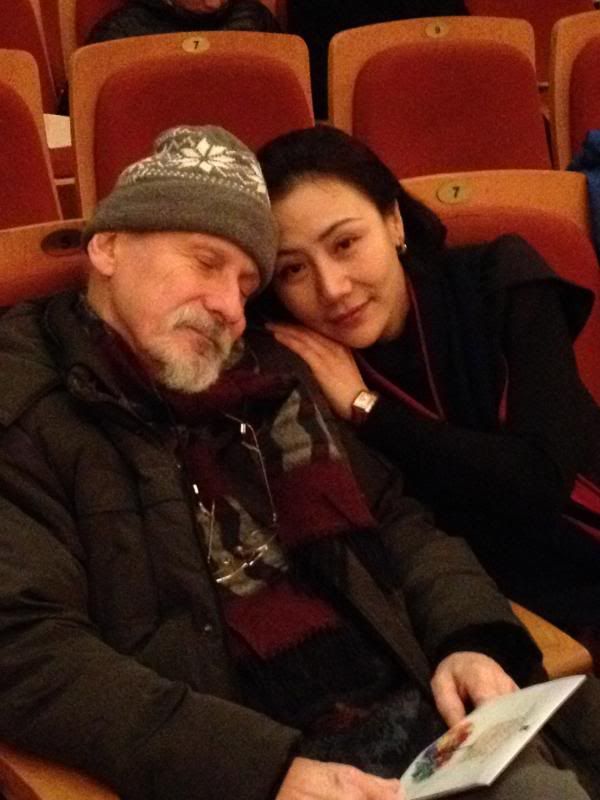 Jack takes a nana nap w Wang Wei
I explore the auditorium – it's huge, seating 1,200 in red and gold upholstery. The sound is remarkably even and clean for such a large, fabricked area. Floor is wood though, sound reflectors from the ceiling look like perspex. Effective.
Very hungry and the musicians look like skipping lunch. That wasn't a good idea so head out into the crisp afternoon to find food. There are stray cats around and about, two curled up tightly together in the sun to keep warm. Stumble upon an authentic-looking teahouse in the centre of Jingshan Park. Two young women with no English (why should they?) entice me with the tea menu but I head for the page of snacks and buy practically all they have, which turn out to be a mix of green tea and bean paste teacakes. Now, to get them back to the hungry musicians.
Easier said than done. I can retrace my steps as well as the next person, only I hadn't realised that Jingshan Park's based on the design and sensibilities of a maze. One false move and … oops. I wander lonely as a cloud for an hour or so, sometimes stumbling upon park maps, assessing my position and heading for where I think the Forbidden City Concert Hall should be. It's an elusive building, sometimes visible amongst the trees, but inaccessible behind stone walls. This would probably be fun in the summer, with friends, or for young lovers, but my patience is wearing thin. I feel like curling up with the stray cats, if only I could find them.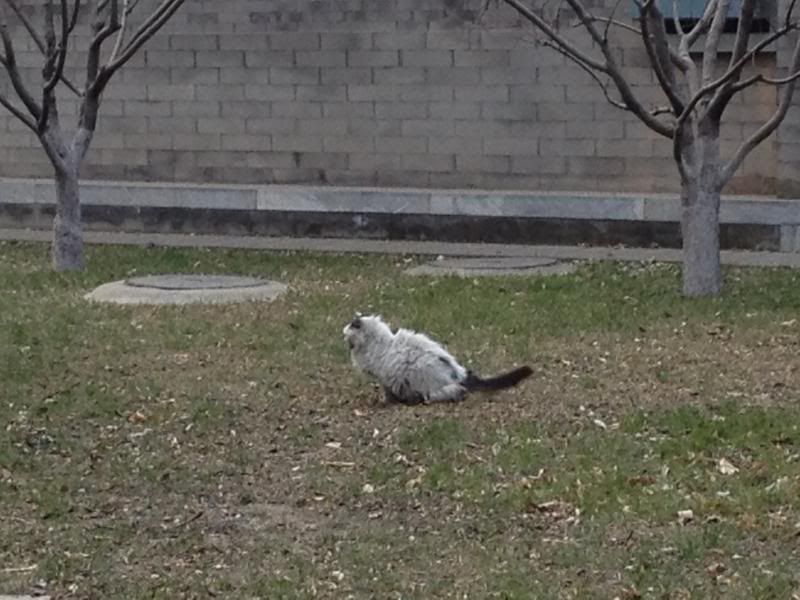 An Imperial cat
Eventually, the magical path to the hall appears and I rush in. Nobody's missed me, relief, I think. The musicians and students dig into the tea cakes hungrily and smile as the sugar hits the spot.
The rehearsal has stopped and anxious, grumpy faces are visible. It turns out the click track for Jack's piece (the musicians wear earphones to hear the beat) has too much of the recorded soundtrack present too. Helene steps up and organizes runs-through of Tabea Squire's effective duets while the issue's being resolved. Tabea's paired up instruments from the Quartet with Chinese instruments in four duets, that introduce the possibilities, similarities and differences of each culture.
Xiao Ma (looks like a pop star – as I may have mentioned) has told Dylan that he's going to perform the original vocal line of his piece as the rework's "too simple". Fingers crossed, legs crossed, everything crossed.
We head to the basement for dinner and then back upstairs for a very formal reception with the New Zealand Ambassador to China, Carl Worker and a Chinese Dignitary whose name escapes me, apologies CD. The format seems to be that they hold a private conversation (through interpreters) and we listen in. Jack Body's name comes up often, as does Gao Weijie's. We're served jasmine tea.

The Very Formal Function

Gao Ping and his father Gao Weijie
Back to the auditorium – it's buzzing with people, mostly young, mostly Chinese. On one side of me are two young guys wearing baseball caps, on the other a young couple.
The Orchestra start with Gao Ping's piece for Chinese instruments and piano. Gao Ping's the soloist. He uses the keyboard and inside the piano and then he breaks into voice. The music's full of colour and air.
Tabea's Duets are next – an excellent way to introduce the two cultures working together. They're intricate lines that wind around the space.
Dylan's work's next and so Xiao Ma walks on with Liu Shun. This is quiet music, designed to draw in focused listeners with beautiful sounds The woman on my right leans forward slowly and rests her elbow on her knees, chin in her hand she listens exactly as I hoped people would. The hall gets quieter and quieter. Dylan's achieved the effect he sought.
'Beat' is the name of Jack's work. He's based the score on field recordings he made in China decades ago. They're of workers, chanting and singing as they go about their daily tasks. All the musicians commit to shouted sections, especially the shouts of the cement-smasher. The man in front of me jumps out of his skin, smiling in recognition. He turns to his companion and sways and shouts in time to the recording.
Somebody in the audience has a red light pointer and seems to think it's funny to shine it around the crowd. It's not funny. It keeps landing on my notebook. Slowly I realise it's one of the many doormen/guards checking that we're not taking photos or knitting. We're not. The audience is very well-behaved and enthusiastic.

The Forbidden City Concert Hall empty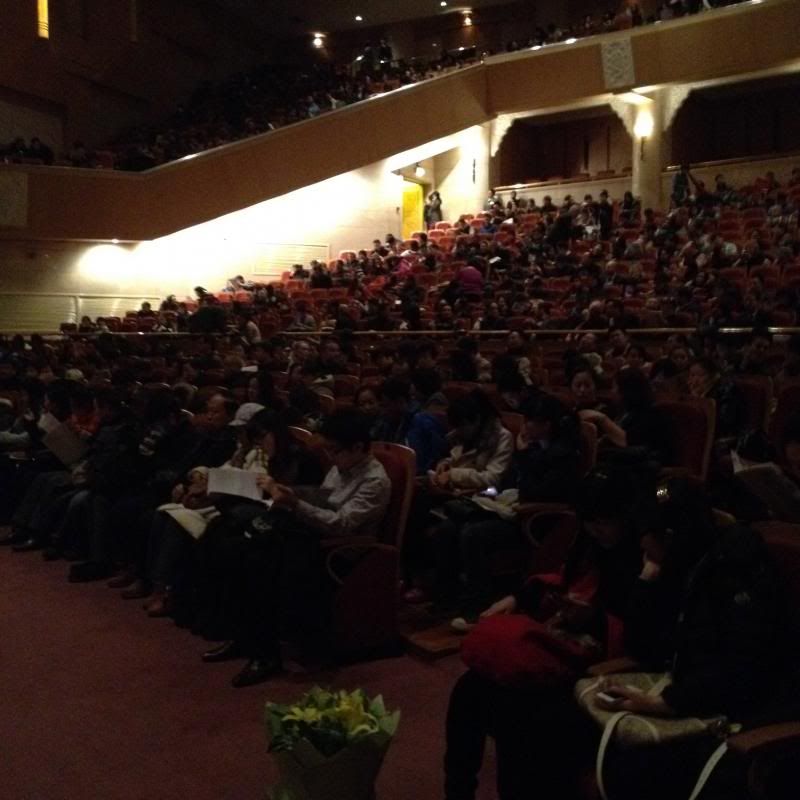 And complete with audience
Michael Norris's work (to have accompanying film by David Downes, but not today) surges and recedes in texture, dynamic and activity. The musicians tap together pebbles (I wonder if they're from New Zealand, they sound like it, and if so, how he got them through customs). They sound like dripping water. How come? Don't know.
Xiao Ma comes back on stage to sing Gao Weijie's traditional songs. They reference archetypal film soundtracks very effectively. XM's voice captures the legato lines and reels them out to draw us in.
All around the auditorium are large bunches of flowers and at the end of every piece people crowd to the edge of the stage to hand them to musicians. Helene has a stunning bunch of white (lilies?) under her chair. Also, there's a craze here for miniature teddybears arranged as a posy of flowers.
When Gao Weijie gets to the stage for his round of applause the roof lifts with cheers, shouts, stamping. He has a strong following and they're here in force tonight. Xiao Ma gets teddybears. He looks pleased.
Zou Hang's spiritual-sounding work, with Tibetan bowl, woolly bass drum and humming chorus finishes the night. It must be a popular folksong as Liu Shun turns around on the podium and invites the audience to join in. They do, beautifully. I do, improvisationally. Shouts and cheers for ZH too and tens of bunches of flowers, in fact I can hardly see him for flowers. More applause, half the audience seem to head for the stage. The end of the concert morphs immediately into a social event, with animated conversations under the stage lights. I race backstage and record musicians' impressions as they come offstage.
Back to Jack's room for a debrief with the Quartet, Dylan, Guan Xin, Gao Ping, Wang Wei, Shao Li (Charley) and members of the Ministry. Bed at 1.30pm. Pooped.